Quik Drive and Self-Drilling Screws Speedup NZ Post's New Mezzanine Floor Installation

Imagine how long this job would have taken ­– without the Quik Drive tool and the self-drilling screws!
This is New Zealand Post's new facility for automated parcel sorting near Christchurch Airport. Check out the work being carried out by the Hanham & Philp Contractors, and how they installed this mezzanine floor using the Quik Drive tool with CBSDGL158SA 10g x 42mm collated screws for ply fixing to steel frame.
The self-drilling CBSDG screw is ideal for fixing cement sheeting, underlay or timber-to-steel joists. The design requires no predrilling, making them easier and faster to install than standard winged self-drilling screws. The drill point with wings drives easily through 1.2mm–2.4mm steel without pre-drilling.
Watch the Video to see how easy it is for the builder to install the flooring screws on this mezzanine floor. The Quik Drive system delivers a consistent fixing depth every time you engage a screw, no over or under driven fixings, no bending over or kneeling to fix screws, so no more aching backs or sore knees for the team at Hanham & Philp Contractors. They love being able to work upright and finish off the new floor easier and quicker!
Jobsite: NZ Post new building near Christchurch Airport
Builders: Hanham & Philp Contractors (hanhamphilp.co.nz)
Products: Quik Drive with CBSDGL158SA 10g x 42mm collated screws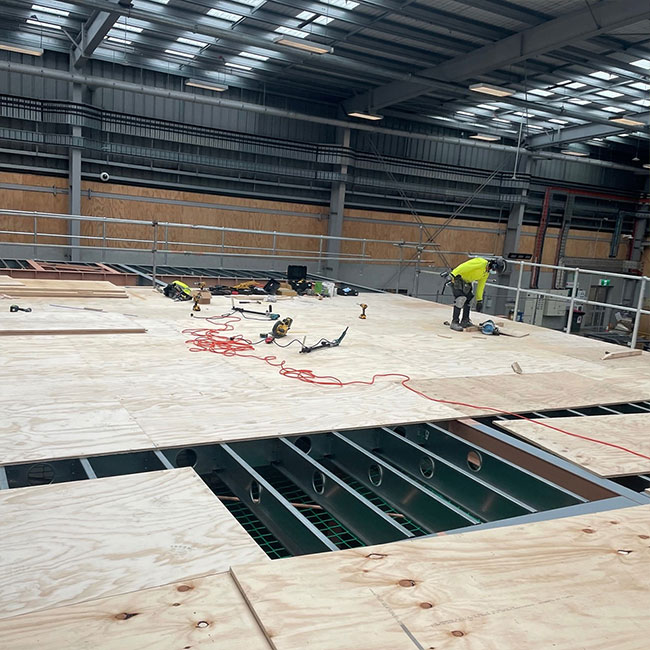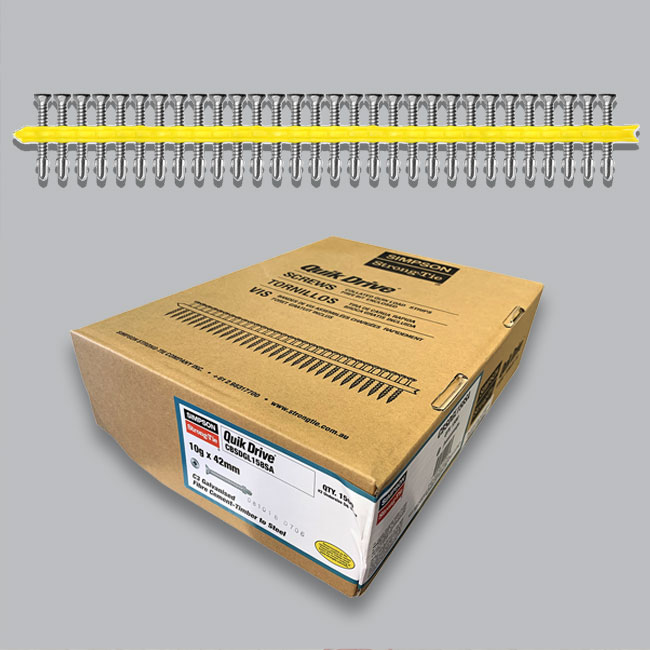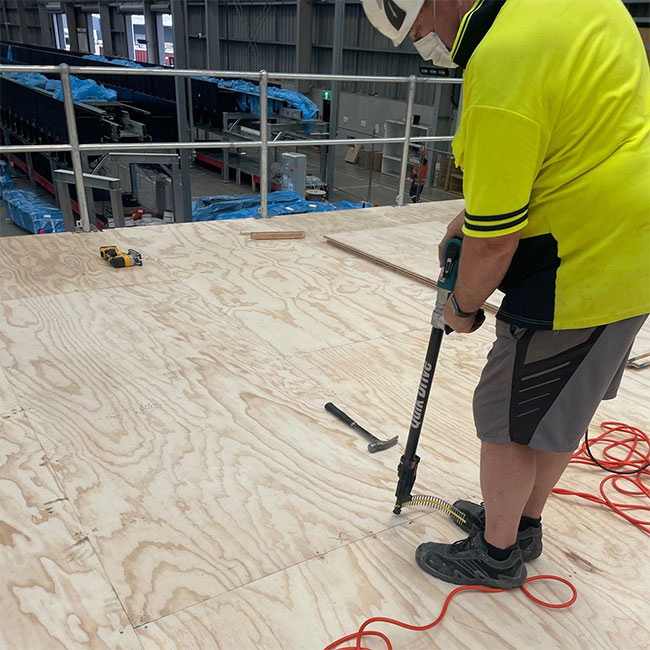 Structural Connections

Unmatched Quality from the Truss to the Foundation
With nearly 60 years of field and R&D experience, Simpson Strong-Tie® timber connectors are manufactured to the industry's highest standards. From framing angles to straps to heavy-duty joist hangers, we offer the most diverse product line so that you have the right product for the job.
Simpson Strong-Tie® connectors offer unmatched quality with laboratory and field testing, and are backed by our uncompromising commitment to customer service. As the company that built the connector industry, you can count on Simpson Strong-Tie® to work closely with builders, engineers and building officials to deliver innovative, building code-compliant solutions to help build safer, stronger structures economically. Download the Timber Connectors NZS 3604 Catalogue.
Timber Connectors
From testing to service to availability, everything we do is engineered to ensure your project's success. With every product, you know you are getting the quality, value, service and on-time delivery that we have built our reputation on for the past 60 years.
From straps and ties to joist hangers and much more, Simpson Strong-Tie® structural connectors increase the strength and safety of timber-frame structures. Each connector is unique to Simpson Strong-Tie and is designed for specific applications without the need to adapt metal plating to suit a connection. Download the Timber Construction Connectors Catalogue (2016-2018).
Steel Frame Connectors
From fully tested and engineered connectors and clips Simpson Strong-Tie® provides comprehensive structural solutions for cold-formed steel construction. From steel-to-steel connections to full-scale lateral solutions and curtain wall connectors, we remain committed to developing new technology that helps to advance the cold-formed steel industry.
Find out how Simpson Strong-Tie timber connectors can help you build the right way every day. Download the Cold-Fromed Steel Construction Connectors Catalogue.