Simpson Strong-Tie NZ Releases NZS 3604 Design Book

Simpson Strong-Tie® is well known amongst the engineering community for providing tested load data for specific design structures, and now with the release of our NZS 3604 book gives easier access to the wider architectural community for our innovative connectors and solutions where simpler residential design is in play.
One of the fundamentals in Simpsons engineering ethos is the measurement of connector deflection as our test failure mode, meaning almost every load we publish comes from testing rather than the more commonly used fastener withdrawal calculation. This stems from the belief that designing to safeguard a structure against catastrophic failure is the bare minimum we can do, and that we should instead help the industry build more resilient homes, that allow the occupiers to repair and return to their homes sooner and more economically after a major event. This also gives the specifier a degree of comfort knowing that the loads they calculate from (whether using 3604 or specific design) result in a high safety margin.
See our catalogues for more information, or feel free to give us a call about how we can help you design and build safer stronger structures.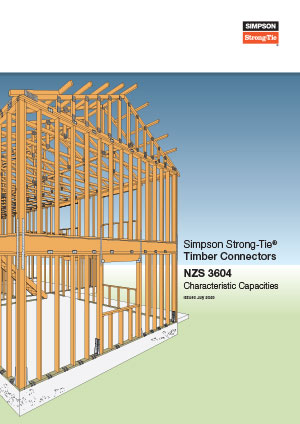 Structural Connections

Unmatched Quality from the Truss to the Foundation
With nearly 60 years of field and R&D experience, Simpson Strong-Tie® timber connectors are manufactured to the industry's highest standards. From framing angles to straps to heavy-duty joist hangers, we offer the most diverse product line so that you have the right product for the job.
Simpson Strong-Tie® connectors offer unmatched quality with laboratory and field testing, and are backed by our uncompromising commitment to customer service. As the company that built the connector industry, you can count on Simpson Strong-Tie® to work closely with builders, engineers and building officials to deliver innovative, building code-compliant solutions to help build safer, stronger structures economically. Download the Timber Connectors NZS 3604 Catalogue.
Timber Connectors
From testing to service to availability, everything we do is engineered to ensure your project's success. With every product, you know you are getting the quality, value, service and on-time delivery that we have built our reputation on for the past 60 years.
From straps and ties to joist hangers and much more, Simpson Strong-Tie® structural connectors increase the strength and safety of timber-frame structures. Each connector is unique to Simpson Strong-Tie and is designed for specific applications without the need to adapt metal plating to suit a connection. Download the Timber Construction Connectors Catalogue (2016-2018).
Steel Frame Connectors
From fully tested and engineered connectors and clips Simpson Strong-Tie® provides comprehensive structural solutions for cold-formed steel construction. From steel-to-steel connections to full-scale lateral solutions and curtain wall connectors, we remain committed to developing new technology that helps to advance the cold-formed steel industry.
Find out how Simpson Strong-Tie timber connectors can help you build the right way every day. Download the Cold-Fromed Steel Construction Connectors Catalogue.