Anchoring Systems

One of the core values at Simpson Strong-Tie® is to help you succeed by providing innovative products, full-service engineering and field support, product testing and training, and on-time product delivery. We have become a trusted manufacturer of innovative anchor systems solutions for infrastructure, commercial, industrial and residential projects. We offer a full array of mechanical and chemical anchors and tools for concrete and masonry applications. Our anchor systems, like all of our others, have passed the high performance and quality standards that are expected of Simpson Strong-Tie® – and include the trusted level of service you've come to rely on.
Chemical Anchors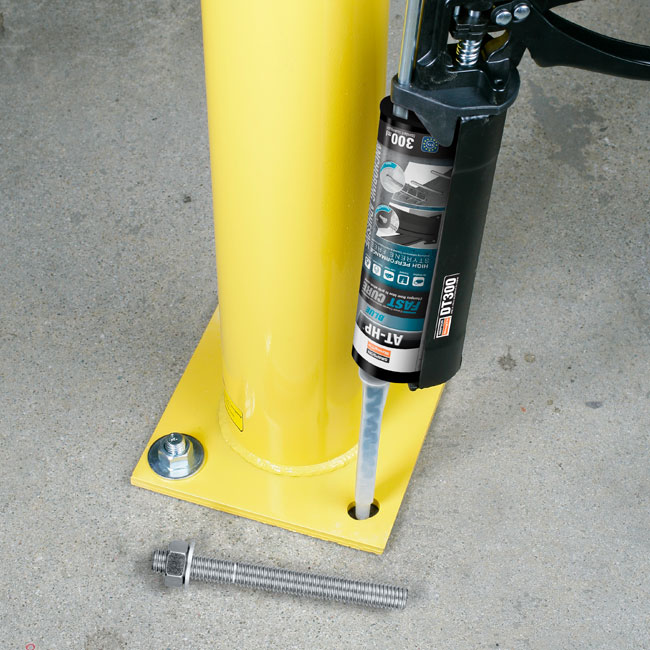 From rebar doweling on a high-traffic infrastructure retrofit project to do-it-yourself projects, Simpson Strong-Tie® offers a wide variety of adhesive anchoring products to meet virtually any need.
Our strong, versatile epoxy-based adhesives are ideal for anchoring threaded rod, rebar and smooth dowels in an assortment of base materials. And our acrylic formulations deliver consistent performance for high-strength anchor grouting in a wide range of weather conditions — curing fast even in water-saturated concrete. Learn more
Mechanical Anchors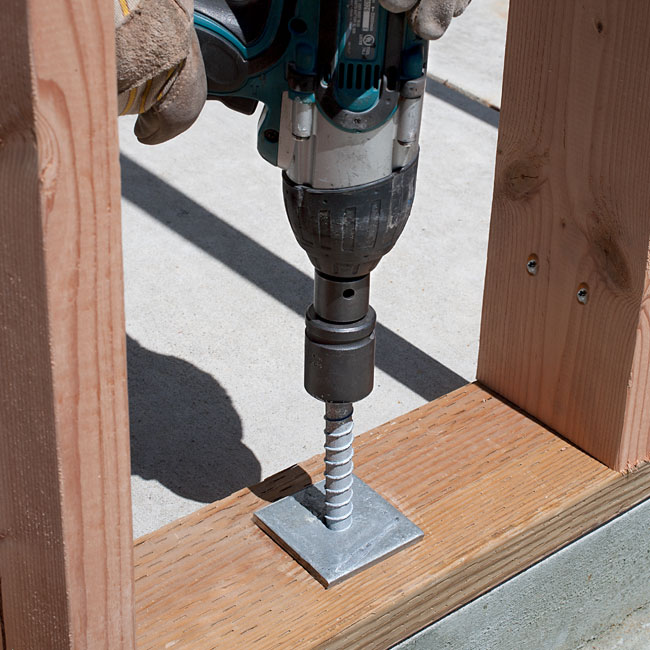 From complex infrastructure projects to do-it-yourself ventures, Simpson Strong-Tie® offers a variety of screw style anchoring products to meet virtually any need.
Our mechanical anchors are designed to install easily and securely into a variety of base materials — from concrete and brick to masonry. They offer optimal performance even in the most demanding structural applications. For applications where there is a risk of concrete cracking, specific anchors have been designed and tested to offer reliability under these conditions. Learn more
Fastening Systems

Driven to Exceed Expectations
In the fastener marketplace, Simpson Strong-Tie stands apart from the rest. Quality and reliability is our top priority. We have metallurgists, materials engineers, and structural engineers to create the best possible fasteners. Each production run goes through rigorous testing to ensure our products can handle higher loads, resist corrosion, and make installation more efficient.
Hand Drive Fasteners
Sometimes you need a fastener that does more. Maybe you're looking for higher loads or additional corrosion resistance, or perhaps an installation method that saves time. Whatever it is, you are no longer looking for just a fastener; you are looking for a solution. Our series of Strong-Drive®, Deck Drive™, Quik Drive® and Stainless-Steel fasteners offer quality and reliability for a variety of fastening applications. Learn More
Quik Drive® Auto-Feed Screw Driving Systems
Collated-screw fastening tools are replacing traditional nail guns for their speed, reliability and power. Quik Drive® auto-feed screw driving systems are ideal for a broad range of fastening applications because they feature quick-loading screw strips, precise countersink adjustment, and a patented auto-advance mechanism. You can improve the quality and durability of your work while reducing time and money spent on jobsites every day. Learn More
CCN64 Collated Connector Nailer
The CCN64 Collated Connector Nailer helps to ensure the correct installation of connectors through its unique design and is considerably faster than traditional hand nailing. The CCN64 has been designed so that connector nails protrude from the tip of the tool. This allows the user to easily locate the tip of the nail into the connector hole so that the connector will not be damaged. The nails are hammered into the timber via multiple blows which prevents the nail from being overdriven. Learn More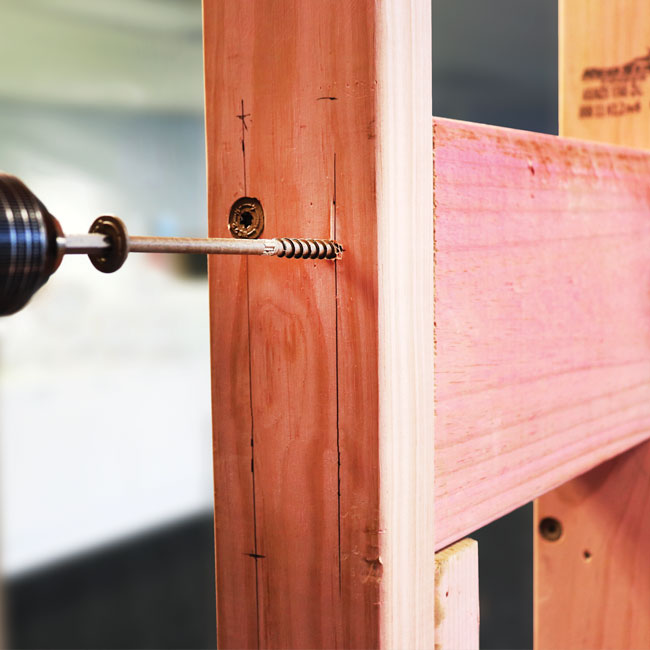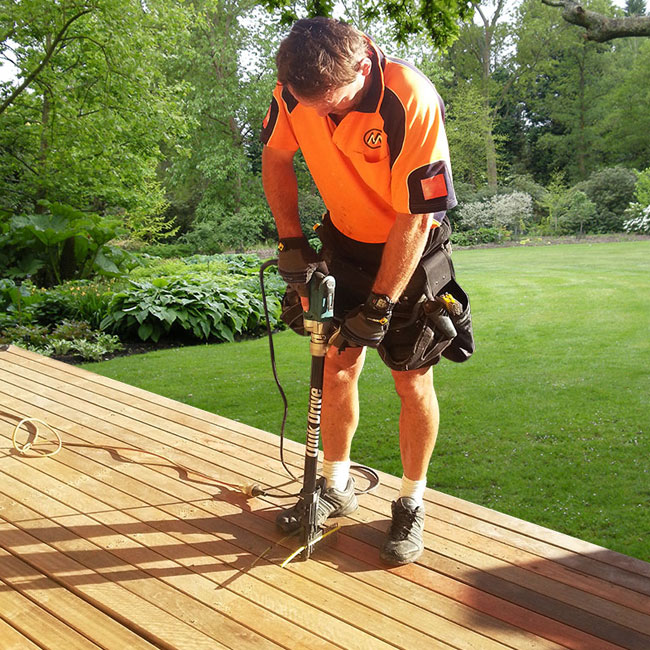 Quik Drive Auto-Feed Screw Driving Systems

Designed to build structures more efficiently
Simpson Strong-Tie® helps people build safer, stronger structures. We do this by designing, engineering and manufacturing productivity solutions that save time, reduce cost and are more ergonomic — allowing our customers to be more productive and cost-efficient with less fatigue.
For high-volume, repetitive fastening, Quik Drive® auto-feed screw driving systems are designed to save time and money.
Quik Drive® Auto-Feed Screw Systems increase productivity while providing superior fastener performance
When it comes to choosing fasteners, the superior holding power of screws over nails is obvious, but the time-saving advantage of driving nails has always tipped the balance in their favour – until you use the Quik Drive® auto-feed screw driving system!
Collated-screw fastening tools are replacing traditional nail guns for their speed, reliability and power. Quik Drive® auto-feed screw driving systems are ideal for a broad range of fastening applications because they feature quick-loading screw strips, precise countersink adjustment, and a patented auto-advance mechanism. You can improve the quality and durability of your work while reducing time and money spent on jobsites every day.
Subflooring
Decks/Docks
Plasterboards
Fiber-Cement Cladding
Weatherboard
Metal Roofing
Underlayment
Truck Beds/Trailer Flooring/Landscape
Learn more about Quik Drive® Auto-Feed Screw Driving Systems or the PRO300 Quik Drive® Auto-Feed Screw Driving System.
Quik Stik™ Rafter and Truss Fastening Systems

Quik Stik Rafter and Truss Fastening Systems
Introducing the new standard for overhead assembly installations of rafter and truss connections. The Simpson Strong-Tie® Quik Stik installation tool provides contractors with a versatile solution that makes fastening rafter and truss connections fast, safe and easy. Quik Stik and Strong-Drive SDWC Truss screws are designed to work together for a safe, reliable solution.
Fast installation: Drive screws overhead from a standing position with no ladders
Safe on the jobsite: Designed for use inside the structure — no need to work outside the building
Easy to operate — less-experienced users can work quickly and efficiently
Precise: Bright orange guidelines facilitate proper alignment for each of the approved installations
Special purpose: Designed specifically for use with the Strong-Drive® SDWC Truss screw for rafter/truss connections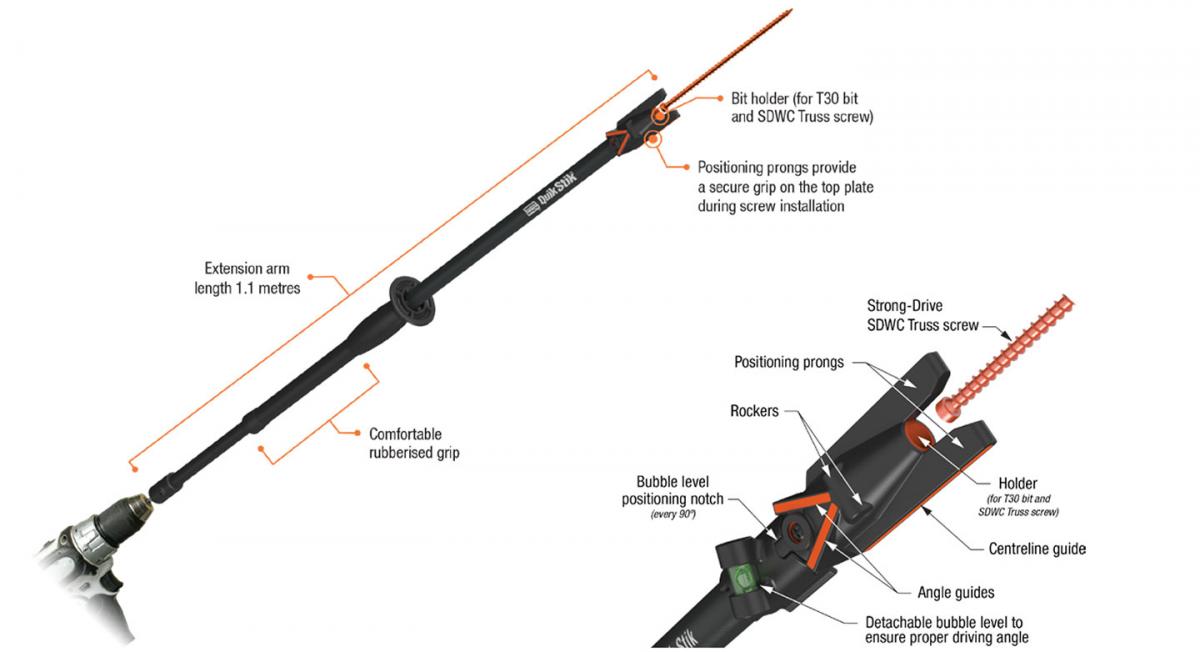 Learn more about Quik Stik™ Rafter and Truss Fastening Systems.
Structural Connections

Unmatched Quality from the Truss to the Foundation
With nearly 60 years of field and R&D experience, Simpson Strong-Tie® timber connectors are manufactured to the industry's highest standards. From framing angles to straps to heavy-duty joist hangers, we offer the most diverse product line so that you have the right product for the job.
Simpson Strong-Tie® connectors offer unmatched quality with laboratory and field testing, and are backed by our uncompromising commitment to customer service. As the company that built the connector industry, you can count on Simpson Strong-Tie® to work closely with builders, engineers and building officials to deliver innovative, building code-compliant solutions to help build safer, stronger structures economically. Download the Timber Connectors NZS 3604 Catalogue.
Timber Connectors
From testing to service to availability, everything we do is engineered to ensure your project's success. With every product, you know you are getting the quality, value, service and on-time delivery that we have built our reputation on for the past 60 years.
From straps and ties to joist hangers and much more, Simpson Strong-Tie® structural connectors increase the strength and safety of timber-frame structures. Each connector is unique to Simpson Strong-Tie and is designed for specific applications without the need to adapt metal plating to suit a connection. Download the Timber Construction Connectors Catalogue.
Steel Frame Connectors
From fully tested and engineered connectors and clips Simpson Strong-Tie® provides comprehensive structural solutions for cold-formed steel construction. From steel-to-steel connections to full-scale lateral solutions and curtain wall connectors, we remain committed to developing new technology that helps to advance the cold-formed steel industry.
Find out how Simpson Strong-Tie timber connectors can help you build the right way every day. Download the Cold-Fromed Steel Construction Connectors Catalogue.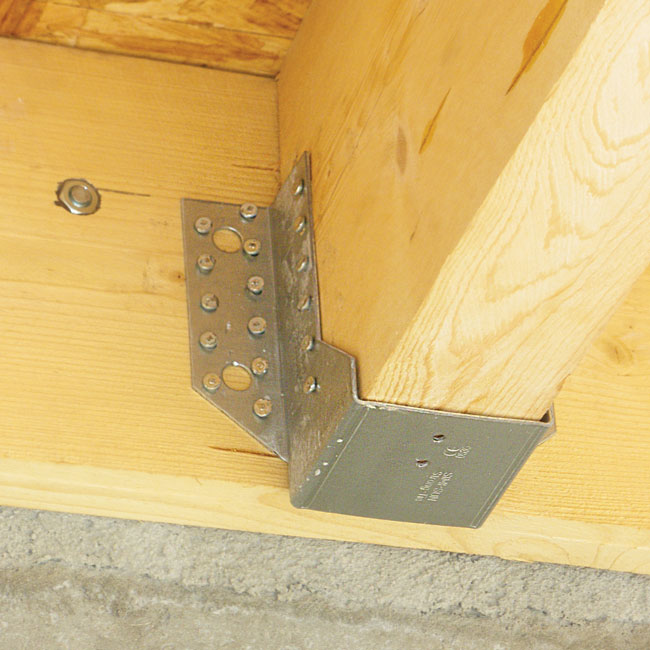 Repair, Protection & Strengthening Systems


Repair, Protect, and Strengthen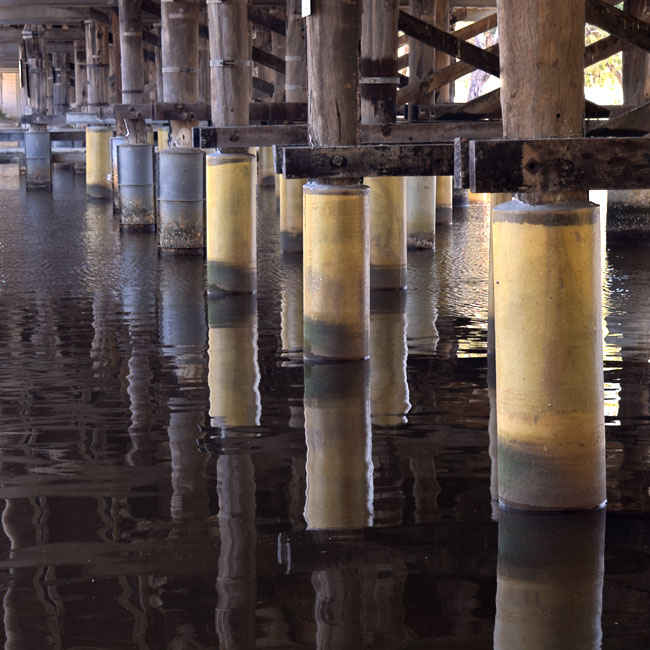 Simpson Strong-Tie® has become a trusted manufacturer of chemical, mechanical, direct-fastening, and carbide drill bits and accessories since entering the market in 1994. Now with over20 years' experience, we continue to expand to provide the most comprehensive product offering to serve infrastructure, commercial, industrial and residential construction markets. These innovative products are the result of more than 40 years of laboratory development, field study and contractor input and have passed the rigorous performance and quality assurance testing you have come to expect from Simpson Strong-Tie. We will continue to expand upon this line of repair, protection and strengthening products and provide our customers with industry leading jobsite, technical and customer support.
FX-70® Structural Piling Repair and Protection Systems
In 1970, the FX-70® Structural Repair and Protection System made in-place repair of damaged concrete, steel and wood piles possible and practical, an industry first. By eliminating the need to dewater the site or build cofferdams, the FX-70® system drastically reduces the overall expense and loss-of-use cost as the structure can generally remain in service with the repair is executed. Check the FX-70 Product Range or download the FX-70® Catalogue to learn more.

FRP Carbon Fibre Reinforcing Systems

Simpson Strong-Tie® Composite Strengthening Systems (CSS) are designed, tested and manufactured to offer high-performance solutions and lasting results. The CSS provides efficient fiber reinforced polymer (FRP) solutions for the structural reinforcement and strengthening of concrete, masonry and timber structures in need of repair or upgrade.
Fiber-reinforced polymer (FRP) systems are simply defined as high-strength and lightweight reinforcements created by combining carbon (CFRP) or E-glass fibers with a polymer material. The performance characteristics of FRP strengthening have become increasingly popular in construction and retrofit applications, specifically in aging, damaged or overloaded concrete structures. Check the FRP Product Range or download the FRP Catalogue to learn more.
ETI Injection Crack Repair Systems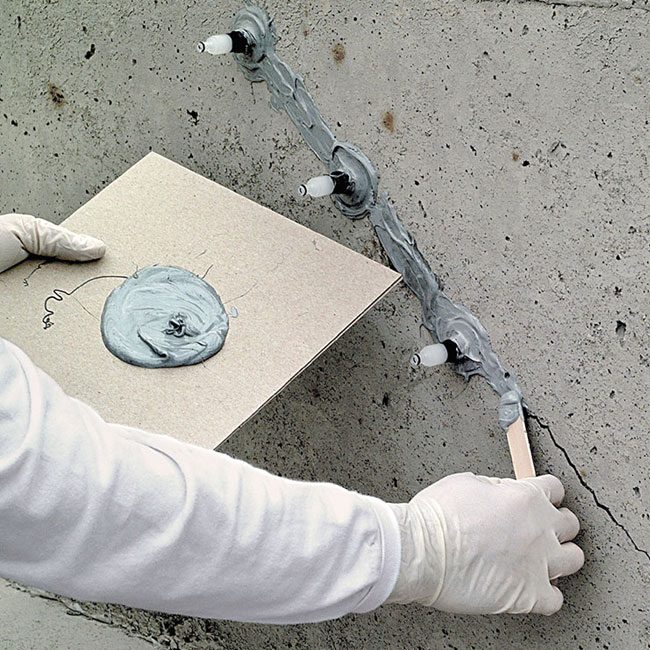 Simpson Strong‑Tie offers a line of products designed for structural and architectural rehabilitation of concrete and masonry. Our restoration solutions developed by Simpson Strong-Tie are the result of over 40 years of laboratory development, field study and collaboration with professional contractors. These solutions provide reliable, easy-to-use products for a variety of applications, including structural restoration, pick-proof sealing and water-intrusion prevention.
The ETI Injection Crack Repair Systems include the ETI Injection Epoxy, Past-Over Sealant, and the E-Z-Click Injection System.
The ETI Super-Low Viscosity Injection Epoxy is a two-component (dual cartridge), high-solids formulations for the injection into cracks in concrete. Dispensed through a static mixing nozzle by using the EDT22S Epoxy Adhesive Dispensing Tool, these epoxies provide a waterproof, high strength (structural) repair.
The CIP-LO is a low-odour, fast-curing epoxy paste-over used to seal cracks and secure injection ports at the surface of concrete substrates prior to implementing an epoxy or urethane foam injection repair. It is part of Simpson Strong-Tie's Restoration Systems used with ETI Injection Epoxy on cracked wall repairing. Check out our ETI Product Range.
Heli-Tie Masonry Wall Reinforcing Systems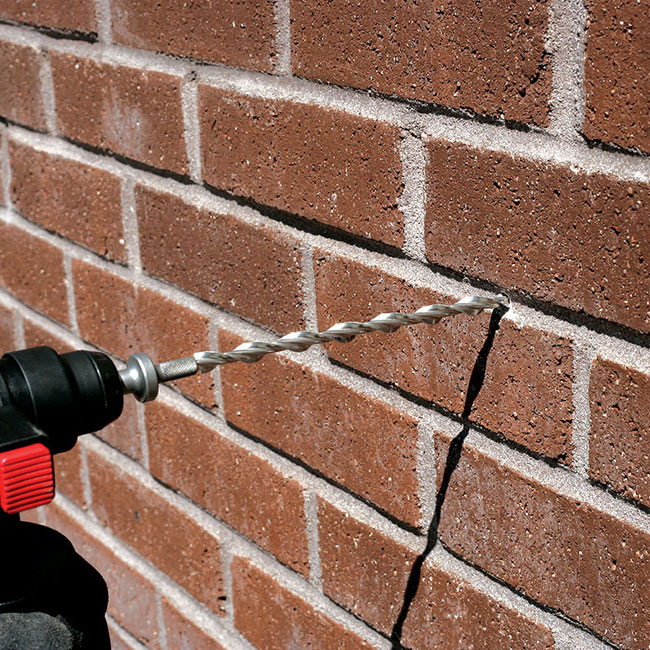 The Heli-Tie Brick & Masonry Wall Reinforcing Systems include Helical Stitching Tie and Helical Wall Tie. These solutions are designed for structural and architectural rehabilitation of concrete and masonry.
The Heli‑Tie™ Helical Stitching Tie provides a unique solution to the preservation, restoration or repair of damaged brick and masonry structures. Made of 304 stainless steel, the 6mm diameter tie is installed into the bed joint of damaged or cracked masonry courses using non-shrink repair grout or mortar.
The Heli‑Tie™ Helical Wall Tie is used to anchor building facades to structural members or to stabilise multi-layer brick or masonry walls. The helical design enables the tie to be driven quickly and easily into a pre-drilled pilot hole (or embedded into mortar joints in new construction). Check out our Heli-Tie Product Range.
Lateral Systems
Little did we know when we introduced our first holdown in 1966 that our product innovations would lead us to solutions that can help hold together five-story buildings during an earthquake or allow builders to more easily retrofit structures and install larger window and door openings in homes. Our offering of lateral-force resisting systems, including Timber Portal Frame System and new Strong-Rod™ Systems, gives designers and engineers added design flexibility in timber-frame construction and the confidence that almost anything is possible.
A History of Testing, Innovation Drives Today's Performance
The Simpson Strong-Tie commitment to product design and testing over the years has resulted in us taking a whole-systems approach to building design. One of the key milestones that launched us down this path was the development of our first factory-built wood shearwall — the Strong-Wall®. Our prefabricated shearwalls improve the quality, consistency and performance of shearwalls in the field.
Strong-Rod™ Systems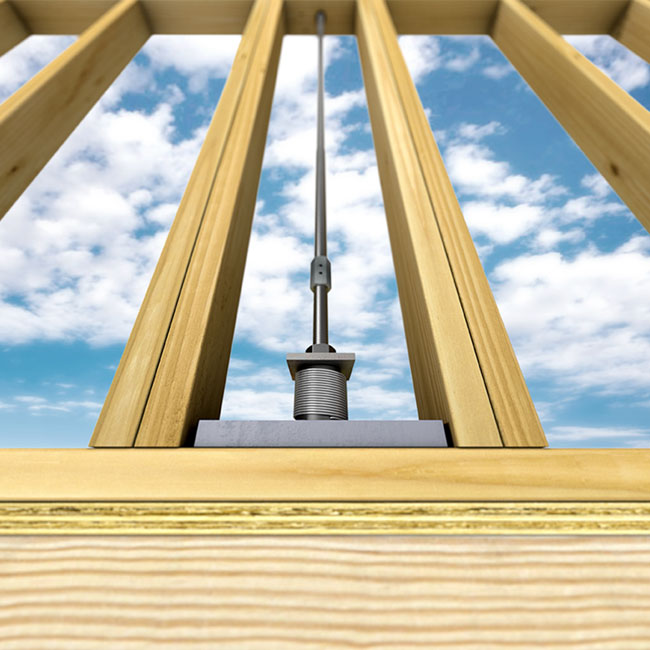 Simpson Strong-Tie Strong-RodTM Systems have become a popular continuous rod tiedown solution for light-frame, multi-story timber construction. Our Anchor Tiedown System for Shearwall Overturning Restraint and our Uplift Restraint System for Roofs address many of the design challenges specifically associated with multi-story buildings that must withstand seismic activity or wind events.
These challenges are complicated, and having a reliable, highly knowledgeable design partner can be critical to keeping projects on time and within budget. No structural connector and lateral systems manufacturer knows light-frame timber construction better than Simpson Strong-Tie, and we have what you need to design your building to resist seismic and wind loads. Code-listed components and systems that come with unmatched testing and design expertise are your formula for success.
Strong‑RodTM ATS solutions address the many factors that must be considered during design to ensure proper performance against shearwall overturning — such as rod elongation, timber shrinkage, construction settling, shrinkage compensating device deflection, incremental loads, bearing plate bending, cumulative tension loads and anchorage.
Why Continuous Rod Tiedown Systems?




Seismic and wind events are serious threats to structural integrity and occupant safety. All timber‑framed buildings need to be designed to resist shearwall overturning and roof‑uplift forces. For one‑ and two‑storey structures, connectors (straps, hurricane ties and holdowns) have been the traditional answer. With the growth in mid‑rise, timber‑framed structures, however, rod systems have become an increasingly popular lateral and uplift restraint solution.

Multi‑storey structures present complicated design challenges. Frequently, the structures have larger windows and door openings, providing less space for traditional restraint systems. For all these reasons, there is increased need for restraint systems that can meet multi‑storey structural demands without sacrificing installation efficiency or cost considerations.

Continuous rod tiedown systems are able to answer these demands by restraining both lateral and uplift loads, while maintaining reasonable costs on material and labour. Instead of using metal connector brackets as in a holdown system, continuous rod tiedown systems consist of a combination of rods, coupler nuts, bearing plates and shrinkage‑compensation devices. These all work together to create a continuous load path to the foundation.
Tension Forces Resisted by Continuous Rod Tiedown Systems
Continuous rod tiedown systems are used to resist two types of tension forces — shearwall‑overturning forces and uplift forces on roofs.

One type of tension force is a result of lateral (horizontal) forces due to a wind or seismic event. This force occurs at the end of shearwalls and its magnitude increases at lower levels as it accumulates the tension force from each level or shearwall above.

Anchor Tiedown System for Shearwall Overturning Restraint
A continuous load path is essential to a building's structural performance. Directing the diaphragm loads from roofs, floors and walls to the foundation in a prescribed continuous path is a widely accepted method to prevent shearwall overturning. The installation of continuous rod systems has grown in popularity with the increase in mid‑rise timber (3‑ to 6‑storey) construction. Specifying a Strong‑Rod™ Anchor Tiedown System (ATS) for shearwall overturning restraint from Simpson Strong‑Tie offers several advantages for Specifiers and installers alike:
An ATS restraint provides the high load capacities required for mid‑rise timber construction
System components provide low deflection to help limit shearwall drift
Steel tension elements of the structural lateral force resisting system
Our knowledge of rod system performance through years of testing ensures that all system design considerations have been met
Beyond the tension and compression aspects of a continuous rod tiedown system, timber shrinkage must also be addressed. In these types of structures, shrinkage and settlement can cause a gap to develop between the steel nut and bearing plate on the timber bottom or top plate (see photo below), as the shrinkage increases cumulatively up the building and is the greatest at the uppermost floor. This can cause the system not to perform as designed and can add to system deflection. As a result, take‑up devices must be used with most timber structures greater than two stories tall at each level to mitigate any gap creation and therefore ensure optimum system performance. To learn more, go to the ATS product page, or download the Strong-RodTM Catalogue.
Outdoor Accents
Add Beauty and Strength to Your Custom Outdoor Living Structures
With Outdoor Accents®, a complete line of decorative timber connectors and fasteners from Simpson Strong-Tie, you can now bring both design elegance and structural strength to your outdoor living areas. This hardware accommodates 90mm and 140mm timber sizes, providing the flexibility you need when designing and building custom outdoor projects such as pergolas, patio covers and other top-supported structures.
The Outdoor Accent unique fastening system combines the look of a bolt with the install ease of a screw to make these brackets a breeze to use. No more through bolting, instead the install speed of load rated structural screws into strong and beautiful looking hex head washers gives your structure a timeless appearance with load rated performance. Check out the Outdoor Accents Product Range
CLT & Engineered Wood Solutions

CLT & Engineered Wood Solutions
Cross-Laminated Timber (CLT) is growing in popularity as a sustainable and beautiful construction material. Practical too, CLT can be used for walls, floors and ceilings and is well suited to offsite assembly.
CLT has various benefits making it an attractive building material. These benefits include:
Design flexibility - CLT has many applications. It can be used in walls, roofs or ceilings. The thickness of the panels can easily be increased by adding more layers and the length of the panels can be increased by joining panels together
Prefabrication - floors or walls made from CLT can be fully manufactured before reaching the construction site, which decreases lead times and could potentially lower overall construction costs
Engineers and Architects are now favouring CLT for its elegance, sustainability and its cosmetic appearance.
At Simpson Strong-Tie we have now released a dedicated range of fasteners and connectors for CLT and Engineered wood mass timber structures. These are purpose designed products, made with the load and design requirements of these building materials specifically in mind. Thought has also been given to the install requirements with fast low torque install designs for our fasteners, and options for collated systems that make connectors quicker to install on site. Download the CLT Catalogue to learn more or check out our CLT Product Range.